Introduction
What is Chole Bhature ?
Chole Bhature also called Chana Bhatura  is a dish originated initially within the northern a part of the Indian subcontinent. Now this dish is famous always in Northern India while having massive following in Punjab, India, with its very own variant. It is a combination of chana masala (highly spiced white chickpeas) and bhatura, a fried bread crafted from maida that is basically white flour.
Chhole bhature is frequently eaten as a breakfast dish, from time to time observed with lassi. However, it can additionally be avenue meals or a complete meal and can be accompanied by means of, for example, onions, carrot pickle, green chutney and achaar.
Ingredients needed 
For Dough
For Garnishing
HOW TO COOK
Step 1 
To prepare the chola, soak chickpeas in water overnight or for six-eight hours. Then, put a pressure cooker on high flame and add the soaked chickpeas in it at the side of salt to flavor and 1 tea bag or you can also placed 2-3 tea leaves and wrap it in a cloth. Cook the chickpeas for 15-20 mins. (Note: The tea leaves or the tea bag will exchange the coloration of gravy to darkish brown to black.)
onions
Step 2
Meanwhile, put a pan on medium flame and heat a little oil in it. Add the cumin seeds, curry leaves and 1/2 sliced onion inside the pan. Saute the onion until golden brown, then upload minced garlic, ginger and onion paste. Saute the substances for some seconds until the uncooked smell of garlic is going away and then add the chopped tomato with tomato puree.
Pink-gravy
Step 3
Once the oil is separated, upload turmeric, purple chilli powder, coriander powder, and chana masala. Cook the tomato-onion combination for any other two minutes, after which add cooked chola with little water. Stir nicely to mix the masala with the chola or the chickpeas. Check salt and allow it to prepare dinner for a couple of minutes. The chola is prepared, you can garnish with chopped onion and coriander leaves.
Bhatura
Step 4
Now for making the bhaturas, combine together all cause flour or maida and wheat flour or atta in a dough kneading plate. Then add salt and oil in it. Mix well. Add yoghurt in the flour mixture and knead the dough welll. You can add a little water and knead the dough. When it's far performed, transfer the dough in a plastic bag and roll the bag to put off any air and tie it. Keep aside this dough for about 5-6 hours. (You can do it while you soak chickpeas, previous night time).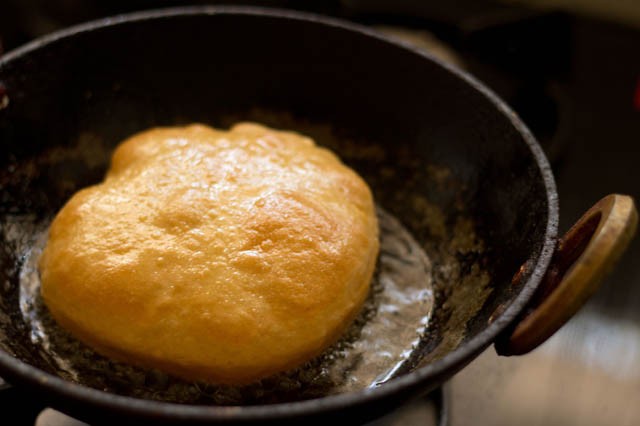 Chole bhatura
Step 5 
Now, positioned a kadhai on high flame and meanwhile, take identical quantities of the dough and roll large length puris (bhatura). When the oil is warm sufficient, cautiously upload those bhaturas within the oil and deep fry. Repeat with the relaxation of the dough. Then take a plate and serve chola bhatura hot!
Special Facts
"World Chole Bhature Day" is celebrated on 2nd october, the birthday of Mahatma Gandhi.
The world record for the biggest Bhatura was made in Delhi in 2017 which measured to be 4 ft and 2 inches tall.
https://wiki2.org/en/Chole_bhature. https://recipes.timesofindia.com/recipes/chola-bhatura/rs53314156.cms. https://www.tripadvisor.ca/LocationPhotoDirectLink-g187497-d1100395-i183087153-Veg_World_India-Barcelona_Catalonia.html